Welcome to our Events & Announcements Section

List your Events & Announcements, Art Fairs, Art Shows, Museum and Gallery Exhibitions, Art Openings, Special events here. To present, promote and advertise your business here - Please contact us at 310-598-7991 or use our contact form to send your listing. Text size including title is maximum 500 characters. We accept Credit card or PayPal. You do not need a PayPal account and you can also place your order by phone. Make your payment, then send your ad text: CLICK HERE ADVERTISE: CLICK HERE TO ADVERTISE

RATES: To FEATURE Listing with Photo add: $25
30 Days: $50.00 | 60 Days: $75.00
6 Months: $250.00 | 12 Months: $395.00
---


Art Cologne 2014

April 10 - 13, 2014

Art Cologne 2014

Art Cologne 2014
April 10 - 13, 2014
Cologne, Germany


April 10 - 13, 2014

---


The London Original Print Fair 2014

April 24 - 27, 2014

London Original Print Fair

London Original Print Fair, United Kingdom
Royal Academy of Arts Burlington House,br> LND W1J 0BD
United Kingdom


April 24 - 27, 2014

---


MUSEUM OF CONTEMPORARY ART

Chicago - 29 June - 13 Oct 2013

Homebodies

Homebodies presents work by contemporary artists who examine the space of the home, both literally and metaphorically, as an integral site for making art. Featuring an expansive range of artworks, some made of materials found in the domestic sphere and others that represent or re-create a sense of domesticity, Homebodies demonstrates a new understanding of how the domestic context has influenced the creation and interpretation of contemporary art.

This exhibition is organized by Naomi Beckwith, Marilyn and Larry Fields Curator at the Museum of Contemporary Art Chicago.

---


KUNSTMUSEUM BONN

Bonn Germany - 27 June - 29 September 2013

AN EXPRESSIONIST SUMMER - BONN 1913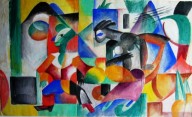 On the occasion of the 100th anniversary of the ?Exhibition of Rhenish Expressionists? the Kunstmusem Bonn presents the show ?An Expressionist Summer ? Bonn 1913?. In 1910, August Macke and his young family returned to Bonn from where he established contacts to many other artists. His house on Bornheimer Stra?e, which was both home and studio, became the meeting point for the Rhenish art scene.

August Macke was the initiator of the exhibition for which he chose 14 male and 2 female artists: Heinrich Campendonk, Ernst Moritz Engert, Max Ernst, Otto Feldmann, Franz Seraph Henseler, Franz M. Jansen, Joseph K?lschschbach, August Macke, Helmut Macke, Carlo Mense, Heinrich Nauen, Marie von Malchowski-Nauen, Olga Oppenheimer, Paul Adolf Seehaus, William Straube and Hans Thuar.

The 100th anniversary of the show is reason enough to present a selection of works by the Rhenish Expressionists that were part of it in 1913. .

---
Top Site
Resources
Your source for Fine Art. We carry a huge inventory of Art works of every category. Shop us for Extraordinary Fine Art Prints, Lithographs,Sculptures, Signed Limited Editions
The Museum of Modern Art (MoMA) is a place that fuels creativity. Housing the world?s finest collection of modern and contemporary art, showcasing art genres from past to present.
ArtSlant is the #1 Contemporary Art Network with worldwide arts calendars, Artists, reviews and online art sales
A Gallery devoted to all Pop Art & Contemporary Art We are your source for Pop Art, Pop masters, Post Pop, Modern, Andy Warhol Pop Art prints, posters.
Buy Robert Longo Limited Edition Prints and Artworks here. Robert Longo Men in Cities Series for sale